Visa requirements *
All visitors must hold a passport valid for at least 6 months.
Visa-exempt foreign nationals :
Holders of passports issued by the following 44 countries and territories do not need a visa to enter Zambia for up to 90 days in one year as tourists or 30 days in one year for business: Angola, Antigua and Barbuda, Bahamas, Barbados, Belize, Botswana, Cyprus, Dominica, Eswatini, Fiji, Grenada, Hong Kong, Ireland, Jamaica, Kenya, Kiribati, Lesotho, Malawi, Malaysia, Maldives, Malta, Marshall Islands, Mauritius, Montenegro, Mozambique, Namibia, Nauru, Romania, Saint Kitts and Nevis, Saint Lucia, Saint Vincent and the Grenadines, Samoa, Serbia, Seychelles, Singapore, Solomon Islands, South Africa, Tanzania, Tonga, Trinidad and Tobago, Tuvalu, Uganda, Vanuatu, Zimbabwe.
Nationalities subject to visa on arrival:
European Union (except Cyprus, Ireland, Malta, Romania), Albania, Andorra, Argentina, Australia, Belarus, Bhutan, Bolivia, Bosnia and Herzegovina, Brazil, Brunei, Burundi, Cambodia, Canada, Cape Verde, Chile, Colombia, Comoros, Congo DR, Congo, Costa Rica, Cuba, Djibouti, Dominican Republic, Ecuador, Eritrea, Georgia, El Salvador, Ghana, Guatemala, Guyana, Haiti, Honduras, Israel, Japan, Kazakhstan, Laos, Liechtenstein, Macedonia, Madagascar, Mexico, Micronesia, Moldova, Monaco, Mongolia, Myanmar, Nauru, New Zealand, Nicaragua, Norway, Panama, Paraguay, Peru, Russia, Rwanda, San Marino, São Tomé and Príncipe, South Korea, Saint Lucia, Suriname, Switzerland, Thailand, Turkey, United Arab Emirates, Ukraine, United States, Uruguay, Western Sahara, Venezuela, Vietnam. Holders of diplomatic or official passports of any countries may obtain visa on arrival.
Nationalities subject to visa and eligible for online e-Visa: citizens of all other nationalities can obtain their visa online (e-Visa).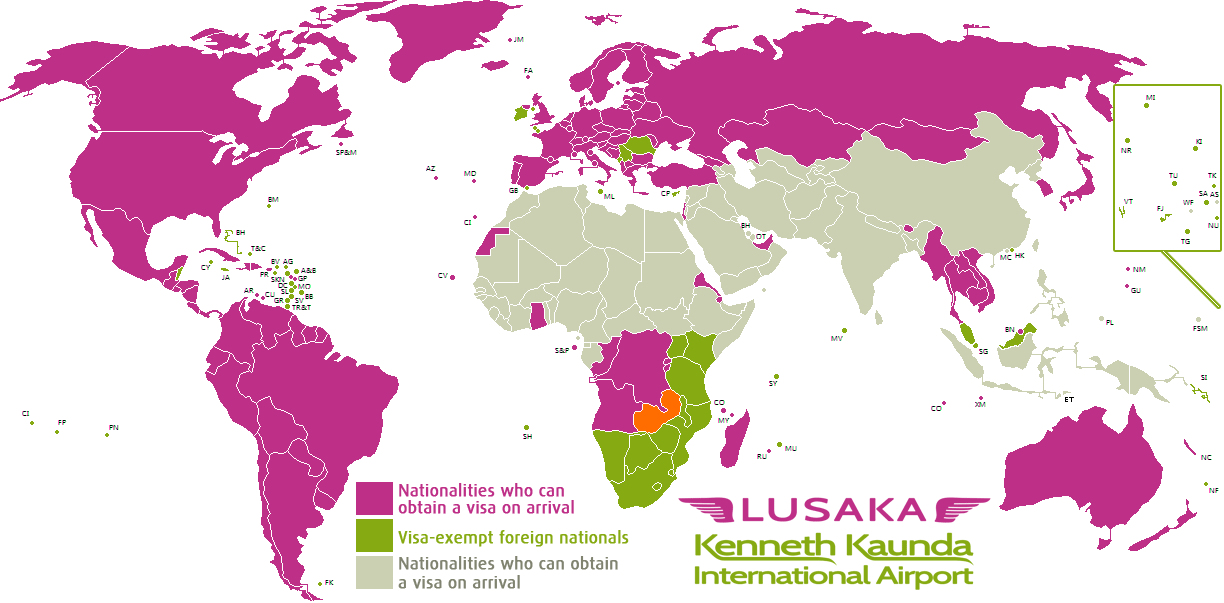 Note: a passenger who does not have Zambian identity papers (passport or identity card) is considered as a foreign passenger even if he / she has a multi-citizenship and must therefore be in possession of a visa .